I attended an Apple Tech talk about Leopard yesterday in Stockholm. It was interesting as such, but the most interesting thing was the lack of chairs.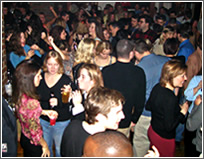 The first time I went to a tech talk was about a year ago and the room was half full. I then asked a couple of the people who attended, and they all said that it was about the same number as previous years, same old crowd, hardly any new faces. I found that disappointing, because Apple with OSX had already become an interesting phenomenon then.
This year, however, they didn't have seats enough. A large part of the audience was there for the first time, as indicated by showing of hands. As far as I could estimate, the crowd was two or three times as large as the year before.
Yes, the Apple developer community is clearly growing over here, and as the speaker said, in Germany as well, where the crowding was even worse. OSX is gathering developer interest in a big way, and that's a very good sign for long-term viability.
I like it.
mac